Location: Home >> Products >> New Product
大滑道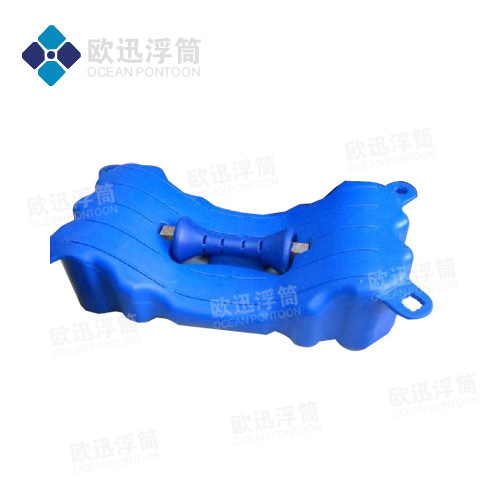 产品详情
Product feature
1.The material used for the product is high molecular weight high density synthetic material (HMWHDPE), which is environmentally friendly. And the addition of anti-UV material makes it have enough toughness, hardness and can withstand changes in the natural environment, low-temperature attack. It is light, buoyant, acid and alkali resistant, of no maintenance, flexible combination and long life. It has bright colors and beautiful appearance, corrosion, frost, UV resistance, anti-aging, free from sea water, chemicals, pharmaceutical, oil&grease, causes no pollution and does not demage the environment. One-step molding is applied for the buoy which is seamless without seepage, standing water. The product can be recyclable and has been widely used at home and abroad.
2. The upper surface of the buoy body is of non-slip tread design, which is safe and stable. The four corners are of arc obtuse shape, which can avoid the common danger of general cement, wood and iron facilities, such as slip, being injured by wood chips, rust sting, etc.
3.The product has high carrying capapcity; the buoy is stable and durable. The buoyancy per square meter is up to 350kg. The product passing 746C class UL-94HB flame test shows that it has good weather fastness and shock resistance and can operate normally under temperatures -60℃ to≤80℃。
4. Life span is more than 15 years. It requires no maintenance and has reasonable and economic construction cost. From the long-term point of view, it can save a number of costs and time in maintenance, replacement and overhaul.
5.The assembly is easy, fast, flexible. Only 2 people are needed to put together 50 cubes in an hour. It can adapt to the needs of a variety of landscape for quick replacement of the platform to have beautiful appearance and elegant shape.
6.The supporting equipments are complete, such as mooring bolts, bollards, anti-collision balls, railings, landing rail bridges, which can accommodate various sizes of vessels to berth alongside. And for its buoyancy of the platform, it will rise and fall down automatically along with the water level, the passengers can get on and down safely and confortably.
7.The cube of the construction can adapt to any specific lakeside resident's needs and can be assembled to correspond with the shape or size you have in mind. The possible number of construction is unlimited. Just use your imagination.
返回